Ufone Super Internet Plus
GET
*290#
GET
—
GET
30 Days
GET
Rs 549
Ufone Super Internet Plus plan costs Rs.549 (load), and customers can sign up for it to get more than 18 GB of data for the whole month, including 9 GB from 1 am to 9 am. Even so, we have a hard time picking the best internet deals for our mobile devices. We can't always predict exactly how much data we'll use each month. And the time on our Internet bundle ran out. When our internet data runs out, it's too bad that we have to pay again to get internet service.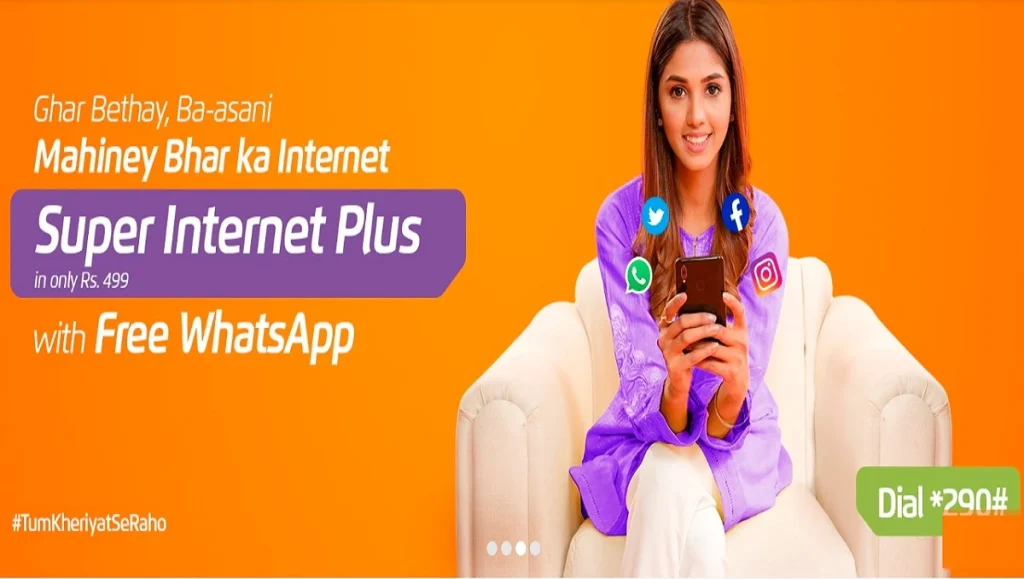 Different internet service providers and cell phone networks, like Ufone, offer prepaid users a range of daily, weekly, and monthly internet plans. Today, we're going to talk about the Ufone Super Internet Plus, its price, how long it lasts, and how to sign up for it. Read the whole thing:
What is Ufone Super Internet plus Offer?
The super internet plus ufone a monthly data plan called Super Internet Plus. In this deal, you can get a very fast internet connection for a very low price. You can also use 18GB of data nonstop for 30 days. During this time, you will also get an extra number of MBs in addition to your daily limit. The 18 GB super internet plus offer from Ufone Super Internet Plus is only good for ufone super internet weekly plus. When it comes to a Super Internet Plus contract, it's easy on the wallet and cheap.
Description
Enjoy Ufone super weekly plus internet package for just Rs. 549 (load). If you subscribe to the Ufone Super Internet plus Package, you will have access to more than 18 GB of data during the entire month (this includes 9 GB of data from 1am to 9am).
Mechanics
Dial *290#
Subscription fee: 549 (load)
Terms and Conditions
Taxes are already factored into each price.
Subscribers to Bucket will always receive the highest possible download speed. The actual speed of the internet will vary depending on a number of different factors such location, time, device, online pages visited, number of subscribers, and so on.
All calls made over WhatsApp will deplete the resources in the data bucket.
Only customers who have pre-paid for their service are eligible to use any bucket.
To view the resources that are still available in the buckets, dial *706#.
Taxes are already factored into each price.
Each session sets aside a certain amount of data in order to improve the overall experience for the consumer.
After the data bucket has been used up, multiple sessions will each be charged at the standard rate for the mobile package.
After the bucket volume has been used up, additional charges will be incurred in accordance with the default pricing, which is Rs.2.50+tax per MB with a charging pulse of 512 Kbs. For every 25 megabytes that you use, you will receive 150 megabytes free till midnight, and so on.
Every day at 00:00 hours, the volume accumulator will be cleared and started over.
There is no limit on the number of simultaneous subscriptions for the Monthly Light, Monthly Heavy, and Monthly Max buckets.
On all social freebies, including Monthly Light, Monthly Heavy, and Monthly Max, there is a Fair Usage Policy (FUP) limit of 2 gigabytes.
Conclusion
Ufone Super Internet Plus of a 4G/LTE subscriber stays active even if the data settings on the phone are turned off. This is a feature of the technology. But in this case, only a very small amount of internet is used. So, when you turn off mobile data, you should change the network settings on the phone to 2G/3G.
Other Bumper Offer
This deal is only Rs. 499 for Ufone customers. The promotion lasts for a whole month. Ufone customers who sign up for this deal will gain access to a whopping 13 GB of data. Five of those gigabytes are dedicated to WhatsApp solely.
Frequently Asked Question